5-STAR POOL AND SPA MAINTENANCE SERVICE

The H2prO Experience
Would you like to hand over the maintenance of your pool to a firm that will take care of everything, without you worrying about anything? That's what H2prO offers you.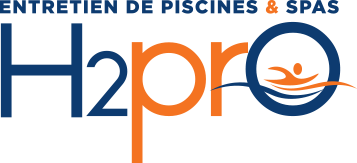 Timely, fast and professional maintenance service for swimming pools and spas that you can follow through your client area.
Client area: Close monitoring of the maintenance of your pool or spa
Thanks to a customized management system accessible through your client area, you will be able to keep an eye on your pool at all times, just like us.
In your client area, you have access to all the technical information related to our work on your pool or spa, from opening to closing including repairs and restorations.
Record of our visits to your home as well as the results of water tests
Daily record of products used in your pool
Accounting area where you'll find all invoices, estimates and payments
Calendar of our visits or services
Messaging system that allows you to ask your questions online
Secure online payment platform with multiple options
Weekly rating system of the quality of services received
Professionalism and Care Expert Pool Maintenance and Repairs
All H2prO technicians and repairers have received specific training in the services they are called upon to offer.
Training in hydraulics and water chemistry
Customer service training
Specific training in the maintenance of swimming pools and spas
Plumbing training for most of our repairers
Development courses for specific repairs
For both the techniques and the parts used, H2prO chooses only the best on the market.
Reliability and Availability Strong Network of Pool Maintenance Service Professionals
H2prO Entretien de piscines et spas is the reference in Quebec when it comes to swimming pools or spas. From opening to closing, regular maintenance and repairs, you can count on the strength of a dynamic network.
H2prO Entretien de piscines et spas is also an outstanding experience. We make it our duty to be available 7 days a week to respond to your requests. Our goal: to make sure you can enjoy your pool or spa to the fullest during the short summer!
Communication and Openness Pool or Spa Personalized Maintenance Service
Each pool or spa is different and requires specific handling. At H2prO, we believe it is important to be open and to communicate to our customers all the information about the operations on their pool.
We're also listening to you. Need more explanations? Not satisfied with a cleanup? We'll travel free of charge to answer your questions. In addition, thanks to the client area, you can note each maintenance visit according to the quality of the water and the cleanliness of the surroundings. This rating system allows you to assess the overall quality of our services. This will allow us to react quickly and make corrections if necessary!
Do you want, like our regular customers,
to enjoy the H2prO experience in the
maintenance and repair of
swimming pools and spas?